Click below to contact immediate assistance
John Thompson or Jim Dunaway, NGA
Professional Auditors, CPA's and Insurance Agents can help find savings.
Your health and that of your employees is of great concern. You want the best coverage you can obtain, yet still afford the premium each month.
Insurance companies are a lot like doctors; they specialize in what they provide and what it costs. Whether your considering HMO, HSA, MSA, or a PPO, you want coverage that follows you 24 hours a day anywhere, takes care of paperwork and keeps delays to a minimum.
The companies represented by Horizon Resources Group are chosen because of their ability to treat their client with respect, caring and speed. Whether the medical need is unique or just maintenance, Horizon Resources has already done the homework and tested the track record of those we present.
Life Insurance, Annuities, Equity Indexed Annuities, Long Term Care, Disability Insurance can all be very confusing and give you many different yet correct answers. With over 75 years of experience and hundreds of clients in seven states, our interest is in our client's needs now and in the future and not "what we have to sell".

International Health and Travel Insurance Coverage
International Medical Group, Inc. (IMG) was chosen by Horizon Resources Group, Inc. for our clients who travel extensively because they truly understand the needs of international citizens and travelers. For more than a decade, IMG has provided medical insurance to individuals, families and groups who are living or traveling abroad. Whether you need individual coverage for a vacation or group coverage for your employees in locations around the world, IMG has a product to meet your needs.
IMG's strength lies in its ability to deliver superior service to our insured members. Our staff includes international claims administrators with a wealth of experience in processing claims from throughout the world; multilingual customer service representatives to assist our members; and an on-site medical staff available 24 hours a day, seven days a week for medical emergencies.
Before traveling overseas, check with your current health carrier and determine what coverage you may have with them. If the coverage is small or there is no coverage, check here to see what protection is available to you. There is coverage for groups traveling overseas also. Investigate and see the difference IMG can make in your peace of mind.
On-Line Quotes around the clock!
International Individual and Group Medical Insurance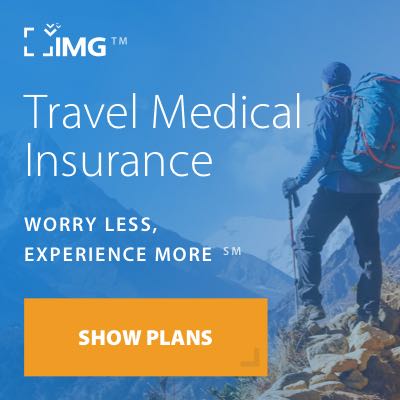 Living or Traveling Internationally

Trip / Vacation Cancellation Insurance